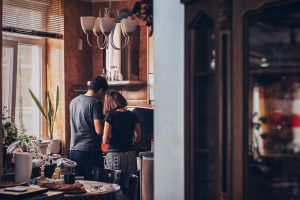 House2Home Goods invites you on a journey into the world of vintage furniture and refined interior design. Discover beautiful interiors mixing vintage and contemporary furniture, interviews, reports, diary, decorating tips and much more to inspire you in your purchases of vintage and 20th century design furniture.
Design resolutions for your home!
What if the resolutions also applied to the decoration of your interior? As you already know, the new year is often synonymous with making resolutions. This new beginning can be tedious so House2Home Goods has decided to share with you some ideas to bring a breath of fresh air to your interior! Ready to become an ace of trickery and illusion?
The layout of your furniture
Sometimes it only takes a few adjustments to give the impression of a new interior. Give a new dynamic to your rooms by changing your furniture space! These minimal changes will certainly allow you to rediscover your spaces and enlarge them: change the place of your bed, swap your sofa and armchairs, change your mismatched chairs around your dining table, move your decorative objects to another room… Let your imagination run wild!
Your office area
Whether you live in a house or an apartment, you will always find a way to create an office area: in a living room, in the bedroom, under a staircase … a range of solutions is available to you! Create a personalized atmosphere by taking special care in the choice of your desk and your storage furniture, then decorate your room according to your desires in order to be in a reassuring and ideal world to work in.  This room of the house is significant for me because I write this blog there. 
Make your house a home with me!
Love, 
Julia Moore